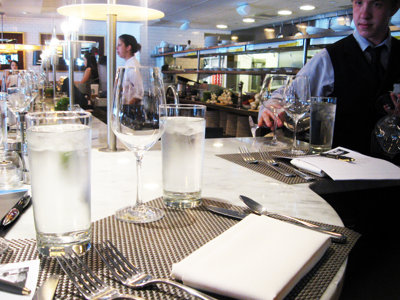 The host or hostess in a restaurant is arguably the most important person in the entire wait staff. The flow of the restaurant is dependent on how well the hostesses can perform and execute their jobs.
In other words, having a job as a host at a restaurant involves more than being friendly and outgoing. There is a definite, systematic movement of the restaurant, similar to a carefully orchestrated dance. And hosts play a defining role in that dance.
As a result, the host is also usually the person who ends up at the receiving end of most complaints about the restaurant. The fact is, most hosts are only acknowledged on the rare occasions that they screw things up, which can make their jobs seem pretty unrewarding.
But, sometimes it's the little things that make a big difference.
I spoke with several hosts at restaurants throughout the city, and although most of them really love their jobs, they admitted that there are a few strategic things restaurant-goers can do to ensure they have the best restaurant experience possible.
They all wished to remain anonymous, but here are some of the things they really wish you knew.
BE UNDERSTANDING
Don't take your bad day out on the host: "Let me start by saying that we are in the service industry: the business of taking care of guests and making them feel happy and at home, and at best loving our food and understanding our point of view. That being said, sometimes there are people that just want to be miserable and take it out on us. Luckily for us, the good generally outweighs the bad."
Be one of the majority: "Honestly, most people are awesome. But the few who aren't can really hurt your feelings or destroy your day, so those are the people who I would tell these things to if I could. For the rest of the people, I would just high five them and say 'Thanks for being awesome.' … which I actually do often, because … I can."
Don't underestimate the job: "(It's) really hard – especially at a place that takes lots of reservations, and fills all the tables. It is a giant puzzle and the pieces are always moving. We have to think six steps ahead of the customer – how will we get you seated, and where is the group of 10 people going to go in the next hour, and the group after that, and how are we going to squeeze in the two people who are waiting at the bar?"
REGARDING DIETARY RESTRICTIONS AND SPECIAL REQUESTS
Call ahead if you have food allergies: "If you or any of the guests you are dining with have special dietary restrictions or food allergies, it is extremely helpful if you call the restaurant ahead of time and inform the host. The host will make note of the accommodation with your reservation. They will talk to you about your needs and act as the liaison with the kitchen and management to inform you of how we can best accommodate you. On the night of your reservation, they will also inform any key players that need to be made aware, making sure that your experience with us runs smoothly."
Give the restaurant time to make accommodations: "We are always happy to adapt our menu to any dietary needs or restrictions and the more time you give us to accommodate you, the better experience the restaurant staff can provide for you. We put a lot of thought and care into any changes we make to the menu. There are even times, with enough notice, that we will bring in special ingredients just for you! With food allergies, the process is even more critical as we are often taking someone's life in our hands. We have a special process to ensure the guest's safety when a guest makes us aware of an allergy."
Don't pretend to have special dietary restrictions when you don't: "What is the deal with non-vegetarian vegetarians? It seems to be a new trend in the last few years that should really piss off real vegetarians. If you eat fish or chicken or bacon, for the love of God, please do not call yourself a vegetarian."
As a rule, don't ask for substitutions: "Substitutions ruin the flow of the kitchen and can seriously compromise the integrity of the dish. It will make you and everyone else have to wait longer for their food. Our chefs literally work morning, noon and into the wee hours conceptualizing, researching and tasting, all for this flavor combination they want you to experience. Don't let yourself down."
If you don't have food allergies, please trust the chef: "You came to a restaurant because the Chef is trained and good at what they do. Try the food as they make it, trust in the flavors he/she pairs together and be willing to try something new."
REGARDING RESERVATIONS
Use the phone: "It's always best to make your reservations by calling the restaurant directly. However, if your preference is to use an online tool, such as Open Table, to make restaurant reservations and you don't see availability, please don't hesitate to call the restaurant and speak to the host. There are often times that we may be able to make something work for you."
Be on time: "If you are running late, please call. At some point, we will have to assume you are not coming. If you are running late and didn't call, please answer your phone when we call you."
Show up: "Not showing up on a reservation is the same as not showing up for a haircut or a massage or a doctor's appointment – that time was blocked off for you and staff prepared for it. Their compensation is based on you coming – if you don't show up, they're unable to fill the spot and therefore cannot make a living. Remember to call to cancel."
Be considerate: "If you have a specific time that you need to dine at because you have somewhere to be, we always recommend making a reservation, especially if you are looking to dine between 6 and 7:30 p.m., the prime dining times in Milwaukee. We are happy to accommodate guests that do not have reservations, but sometimes may not be able to do so immediately upon arrival. Making a reservation ensures that we will be able to accommodate you when you want to dine."
Make a reservation for large groups: "Most restaurants have only so many tables that can accommodate a party of five (or more). If you are dining with a larger group, we highly recommend making a reservation or, if you weren't able to, calling ahead to see how long it will be until we can accommodate you."
Request that special table, but understand if you can't get it: "Each restaurant has certain tables that are highly requested; therefore, we usually can't guarantee a specific table, although, we will do our absolute best to make it happen! If we are not able to immediately accommodate you, we will let you know how long it will be until we can."
Remember that weekends are busy: "Everyone's birthday and anniversary is on a Saturday. Oh, you thought you were the only one? That's funny. In the end, we sometimes wish to remind customers that it's just dinner! So try to relax and have a good time. That's why you're here, right?"
Be accurate with your numbers: "When making a reservation, if you are unsure of how many people are going to be in your party, always make the reservation for the largest accommodation that you may need. Each table in the restaurant has a maximum capacity. It is much harder to add a few extra settings at a table – which may require a different, larger table altogether – than it is to take a few away. Not every table in the restaurant has the availability to squeeze in an extra guest, as it may interfere with the spatial needs of neighboring tables or the accessibility for other guests and staff."
Even if you have a reservation, call if things change: "Booking for 20 people and showing up with six is a huge loss for a restaurant. Not only did we lose 14 covers, but we probably had to turn people away to hold your spot. Understandably, this may be out of your control and plans can change, but any kind of advanced notice is greatly appreciated. This also explains why you may be asked for a credit card number when booking a larger party."
Have the same respect for waiting lists as you would for reservations: "If you have added your name to a waitlist and decide after doing so not to stay and wait. Let the host know to take your name off the list before you leave. Knowing this allows us to open up a table for other diners."
REGARDING TIPPING
Don't tip the host: "It is awkward. Really. Send a nice note about us to the owner or manager, or say thanks, or write nice things about me on Yelp. Nobody yelps nice things about hosts."
REGARDING YOUR ATTITUDE
Don't make assumptions: "Be polite, be kind, be a little patient and trust us. Don't make the assumption that the host is dumb, that he or she doesn't know what he or she is talking about, or is somehow diabolically plotting against you. We work here. We don't want to make you mad and have you yell at us. We want you to be happy and have a rad time."
Nice goes a long way: "The truth is, it is much harder than it looks to make everything work while smiling and being welcoming all the time. So some patience, kindness, and manners make our job easier, and makes the process of seating you much faster. And the secret is, we try to treat everyone exactly the same to be fair, but if you are nicer, we probably try a little harder to get you what you want."
THE BOTTOM LINE
Ultimately, your experience at a restaurant is contingent upon a number of factors, some of which are beyond anyone's control. The most important thing you can do is to remember that the host or hostess is on your side, and is really trying to make your experience the best possible.
"The reality is," the host of a popular restaurant underscores, "basic human decency and a little bit of understanding on the part of the customer can go a long way toward helping he or she get what they want in a restaurant and have a lovely time."