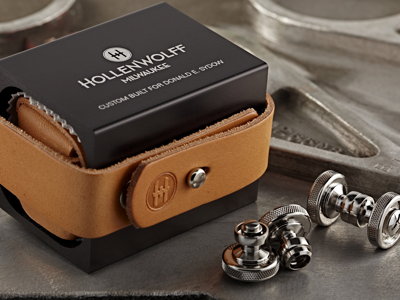 Maybe you don't associate upscale men's jewelry and Milwaukee. But if you think about it, it's really not all that much of a stretch.
Milwaukee's tradition of craftsmanship is nothing new; it was once known as "the machine shop to the world." So shrinking a machine down to something the size of, well, a button, was a logical progression for this trio of local entrepreneurs: one with a background in manufacturing, another in fashion, and a third in marketing.
Enter HollenWolff, a mash-up of the last names of the grandfathers of co-founders James Lohmiller and Kyle Stoehr, who started the company along with Joe Locher and a fourth Chicago investor in 2009.
Stoehr's family business is in ball bearings. Lohmiller was selling custom suiting, and Locher works in branding. Over cocktails, the business was born.
Recalls Stoehr, "I was complaining about the difficulty in putting on cufflinks and James pulled out his iPhone and showed me a picture of how people used to do it."
Indeed, at the height of French cuff dress shirts, cufflink technology was actually ramping up – but then, button-down shirts nearly killed the industry. Cufflinks have been mostly stagnant since then.
Says Stoehr, "We have the capability to make these things, to engineer them a little bit differently, to bring a pragmatic advantage but also to bring back some of the ingenuity that was in the products prior to World War II."
One of the bearing lock cufflinks Stoehr used for inspiration, for example, was patented in 1924.
After three years of development, this spring the first high-end cufflinks began to roll off the assembly line via a Swiss CNC lathe at a machining plant in Elkorn. The leather packaging is produced by fellow Wisconsinite, Kenton Sorenson.
HollenWolff's cufflinks start at $495 and go way up from there.
These are not the kind of cufflinks you buy at Target.
Rather, this is the kind of heirloom jewelry a man buys for his wedding and eventually hands down to his grandson. And, in the world of luxury cufflinks, $500 is far from top of the line. HollenWolff's competition, for example, is selling cufflinks for $14,000 a pair.
Says Stoehr, "Prior to this exploration, I would've never entertained spending $575 on a pair of cufflinks; however, once you look at the marketplace and where these products are most highly appreciated, we're actually in the lower to mid end of the price scale."
Think about it: someone investing in a $10,000 watch (or a $2,000 watch, even) isn't going to accent it with a pair of $50 cufflinks.
What makes these cufflinks so exclusive?
HollenWolff cufflinks utilize sophisticated engineering and machining techniques, so they're self-retaining or adjustable. A man can actually put his own cufflinks on, for a change, and look great while wearing them. The cufflinks have an industrial look to them, turned from solid bars of steel, but with numerous body and insert finish options, they can become as bespoke as a customer desires.
"We also developed an adjustable version for the gentleman who wears a larger watch," says Lohmiller.
With the opportunity to engrave a tiny message, each set is made to order, of course.
"We wanted to make something that was extremely robust. There are 22 turned components in a set of our cufflinks," says Stoehr. "With a serial number, our goal is that 100 years from now, someone can trace the lineage back."
Still unconvinced? That's OK, you may not be HollenWolff's main customer. While the firm does sell its cufflinks in Milwaukee at the Harley Museum and at Lyle Husar Designs in Brookfield, its target markets include the Middle East, Europe and Japan.
"We certainly think the Middle East is a sweet spot for us," notes Stoehr. "We've had interesting opportunities there, where men wear white robes. When they accessorize, there's only one way they can do it … with large watches and cufflinks."
"The majority of our followers on Twitter come from the U.K.," adds Lohmiller.
For now, most of the sales come from the Web site and from smaller retailers. Lohmiller says men are beginning to appreciate quality in a way they haven't in a very long time.
"For the last couple of years, men have really started to care again about clothing," says Lohmiller. "It all started with this movement of 'made in America.' Guys wanted to start wearing what their grandfather wore. They wanted to care about something."
To that end, Hollenwolff is also selling custom studs and shirting, too. "For us, it's complementary," says Stoehr.
Next year, Stoehr hopes to sell his cufflinks in large-scale high-end retailers, too. But that won't change the product's custom, luxe and Milwaukee feel.
"The buyer wants it to feel special, to know where it came from," says Locher. "Trying to break into the fashion world, and telling people in New York and Paris that a fashionable thing is coming out of Milwaukee, I knew it was going to be a challenge.
"That's why we wanted to position it as an industrial item. It seemed like a very natural thing for a little machine that you can wear on your wrist to come from a place like this," he says.