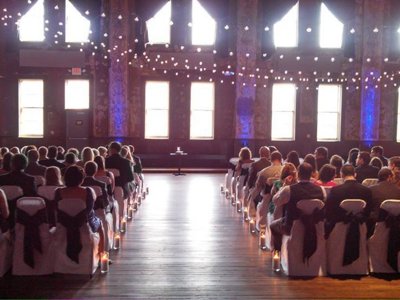 The "Social Circle" is a group effort between readers, social networkers and the OnMilwaukee.com editors. Every Monday, we ask a question via Facebook and Twitter and then post the responses from our Facebook "likers" and Twitter followers in this column. Well-known Milwaukee movers and shakers will contribute, too.
This week, OnMilwaukee.com asked the Social Circle where's the best spot in town to get married. The response was incredible. You can read the entire thread here.
Also, share where your Brew City marriage took place via the Talkback feature. Here's to getting hitched, Milwaukee!
Mike Barr: "How about a church? Anyone consider that anymore?"
Adrein Clapp: "The Marcus Center for the Performing Arts. The venue has beautiful floor-to-ceiling windows overlooking Downtown, as well as some outdoor spaces. Sazama's Fine Catering does the catering there, and the food is wonderful. They are great to work with, too!"
Pat Buechs: "Ours was at Century Hall the night it burned to the ground."
Celeste Contreras: "Alice's Garden. The land has historical Underground Railroad roots and Native American roots. It's a two-acre urban farm. Need I say more?"
Tom Held: "South Shore Pavilion, with a full moon coming up over the lake. Beautiful room, great sound and affordable."
Anthony Garrison: "Italian Community Center, if you have a large wedding reception."
Rhonda Greenhaw: "Lincoln Park. Gorgeous riverside setting, CCC-built stone building with lovely balcony for reception dinner and very inexpensive. My husband and I were married there."
Brian Hillers: "I got married at Paddy's Pub. The owners did all the flower decorations and made the place look even more amazing than it normally does. Highly recommended!"
Lindsay Hurwitz: "I arrived at the Milwaukee Yacht Club via Captain Robert De Vorse on his sailboat where I met my parents and walked down the aisle to meet my husband. We had an outdoor wedding. Would highly recommend this idea for anyone who wants something the guests will remember."
Elizabeth Janners: "Bacchus – in their conservatory room. It's cheaper than most places and the food is fantastic! It was the perfect place for a small and intimate wedding!"
Andrea Judson: "South Shore Pavilion was beautiful except for trying to clean up by midnight. If I did it again I would have paid for two days. Black Tie Catering did the food and it was unforgettable. Yum. Fall would have been better for outdoor pics than December though! Brrr."
Juli Kaufmann: "Hooligan's."
Mike Kendall: "South Shore Park Pavilion. Beautiful location, inexpensive and not locked into bar / catering packages."
Richard Kerhin: "We wed at picnic area 7A at Grant Park, built by workers during the depression near 7 Bridges. Beautiful lake view, close to the beach, you can make plenty of noise, alcohol allowed, room for 100 or more."
Erin Shea Linnane: "It really depends on the style of wedding. If I were planning my wedding right now, it would be Best Place. When I got married it was at the Bavarian Inn. I like my Germans and my beer!"
Jason Maline: "Little known gem called The Brumder Mansion on 30th and Wisconsin. I'm getting married there at the end of May. Old world charm at its best."
Lisa Malmarowski: "Seattle. Because it's not legal here. Although our 'reenactment' at Best Place rocked!"
Maria Meyers: "Brown Deer Park. Outside ceremony, dinner and live polka duo in the pavilion. Our county parks are beautiful, inexpensive, flexible. We know of two couples that modeled their weddings after ours."
Derek Mosely: "Wisconsin Women's Center, Northpoint Lighthouse, Hubbard Park, Turner Hall, War Memorial, Villa Terrace."
Ryan Pringle: "The cemetery. Because they never last."
Elisabeth Reichman: "I didn't get married here but I have been to awesome weddings in Milwaukee. I especially loved the Polish Center and Lakefront Brewery."
Christian Ricco: "The Court House. I went to prom in high school. Streamlining seemed more realistic."
Stephanie Sherman: "St. Hedwig. Why: Father Tim (Kitzke) and God."
Anna Spankowski: "Outside! Milwaukee is so beautiful!"
Liz Steiner: "The Wisconsin Club was great. Beautiful, good price, and most things were included in the cost. We didn't have stupid fees like a chair fee or a napkin fee. We loved it."
Kenya Stevens: "Boerner Botanical Gardens or The Domes."
Eileen Harnett Teska: "If cost is no object, the Milwaukee Art Museum. Gorgeous light, acoustics for music, backdrop for photos."
Wendy Womack: "Under the whale, dinner in front of the butterfly garden. That's where I got married."
Maggie Zaborek: "I was married at The Basilica of St. Josaphat and reception at The Hilton's crystal ballroom. Gorgeous and very elegant."